JEWELRY WITH A MISSION
Wear Art & Experience Joy
Each person is a rare, unique, elegant beauty. And so Woven Angel jewelry collections were created to represent and showcase the value you offer to this world. Wear the wearable art with joy and assurance that you are one of a kind and treasured.What is Viking Metal Knitting?
Cheryl Senkfor, owner and artist of Woven Angel, taught herself to make Viking Knit wire jewelry. She makes it by using a technique that weaves sculptural chains from fine-gauge metal wire.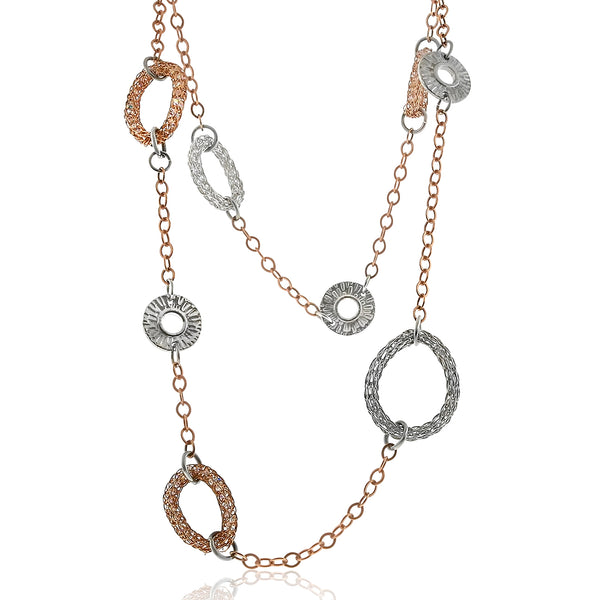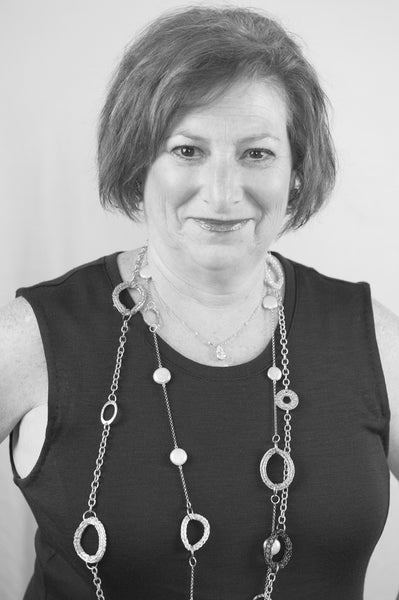 Designer, Cheryl Senkfor
Art and creativity have always been an important part of my life. I initially worked with adults and children teaching them mosaics and ceramics. I then expanded into knitting and weaving.
In 2003 I suffered a life threatening illness. During those days when my health was deteriorating, I miraculously heard and envisioned angels that spoke to me. I knew that if I recovered, God had a reason for keeping me alive. I soon realized that one of my missions in life was to design beautiful and imaginative pieces of jewelry. As I regained my health I was motivated and inspired to design and produce amazing pieces of jewelry. I shared these items with friends and family who were impressed with my self taught talents. They encouraged me to create "Woven Angel" which I started later that year.
I am now concentrating on knitted jewelry using pure silver, gold and copper wire, as well as, a variety of colored wire. I personally design and produce every piece of jewelry I offer for sale. I hope you enjoy wearing these items as much as I enjoyed creating them. I truly believe that you will also feel that you were touched by an angel.
Testimonials
Dear Cheryl, I received the beautiful necklace that you make for me and I positively love it. I love how it feel on my neck because I hardly know that it is there. I was afraid that there might be pinching but there isn't any. It feels amazing. It looks beautiful. I do believe that this is my new favorite piece and I look forward to ordering more in the future!!! Thank you so very much!!!

Karen Wydra
Cheryl's jewelry is unique and completely different from any necklace or bracelet you may have seen. Her creations are incredibly light and detailed making them a joy to wear. I love my piece.

Vicki Packer
Hi Cheryl, My necklace and earrings came today. They are beautiful! I'm excited to wear them. You are an amazing artist. Thank you

Mary
Cheryl, My husband and I had the blessing of being able to meet you at the BIAAZ conference last Friday. I wanted to reach out to you to thank you so, so very much for blessing me with a beautiful piece of your handmade jewelry. I was blown away with your table at the conference, and am so thankful that I now have a piece of your collection that you put so much love and time into. Your story is beautiful and you truly are a miracle and the fact that you took that really scary moment in your life and turned it into a love of jewelry making and being a support to those who have experienced injuries very similar to your own is amazing. Thank you so much for your love, compassion, and hard work. Wishing you the very best in life!

Allison Marshall
Cheryl creates one-of-a-kind jewelry that is not only beautiful but lightweight. Her pieces are handcrafted works of art that can be worn for special occasions and every day. From bracelets to necklaces and earrings, everyone can find a piece they love as much as I love mine.

Rochelle
Cheryl's jewelry is unique and completely different from any necklace or bracelet you may have seen. Her creations are incredibly light and detailed making them a joy to wear.

I love my piece.

Vicki Packer